The recent earthquakes once again reminded the building stock in Turkey. Nearly 10 million houses in Turkey need to be transformed. So what should be considered in this transformation? AS STEEL Chairman of the Board of Directors Erkan Sezer said, "We cannot change the earthquake reality of Turkey, but we have many options to take precautions", and said, we should prefer steel structures."
Stating that they have signed projects that can withstand even 9-magnitude earthquakes in Uzbekistan, Turkmenistan, Azerbaijan, Russia and Hungary with completely domestic production steel, Sezer said, "Steel structures provide great confidence against earthquakes with their flexibility. Steel structures to be built in many areas from buildings to factories are the best option we have for earthquake preparedness. While the steel system usage is at the level of 45 percent in Europe and America, this figure is unfortunately around 3-5 percent worldwide." said.
Both ECONOMIC AND LONG LASTING
Stating that aesthetic and comfortable spaces can be easily created with steel structures, Sezer said, Steel structures are constructed both quickly and economically. Steel systems provide a significant advantage with a long service life compared to the commonly used reinforced concrete model with its structure feature that does not have the risk of corrosion and decay." d strong>ed.
AS Steel, which produces industrial and structural steel construction materials for Turkey and many countries of the world with its 20 years of experience, constructs modern steel structures that exceed the standards in 12 cities in Turkey and 9 countries in the world. AS Steel, which installs steel structure systems with wide spans and heights, which are mostly used in steel construction factory buildings, steel construction hangars, steel construction sports facilities, steel construction warehouses and steel construction workshops, where all carrier systems are produced from steel, especially preferred in geographical regions with earthquake threat. carries the quality of Turkish steel to the world.
Source: https://www.yenisafak.com/ekonomi/depreme-karsi-celik- Yapi-cagrisi-3553423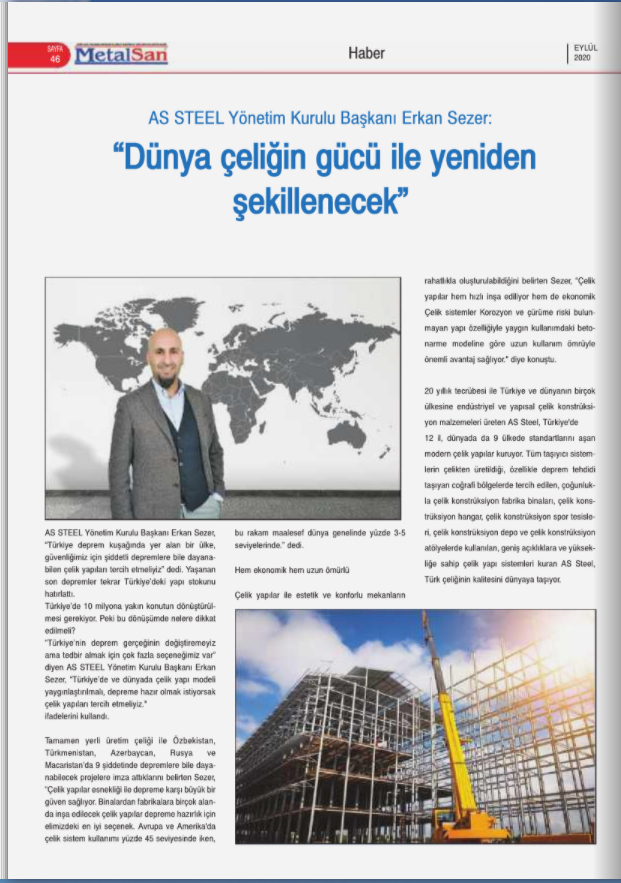 https://www.iha.com.tr/haber-koronavirusun-yaralarini-saran-uretim-tesisleri-celik-ile-buyuyecek-843617/