ATTENTIONAL CALL FOR SAFE BUILDINGS: EARTHQUAKE VACCINE IS STEEL
AS Steel Chairman of the Board Erkan Sezer: Buildings kill, not earthquakes. We must take advantage of the strength and flexibility of steel for safe structures.
The 'earthquake threat', which is an inevitable reality of Turkey, continues to exist. Stating that there were more than 21 thousand earthquakes in Turkey in 2020, AS Steel Chairman of the Board Erkan Sezer said, "Safe building construction is at the forefront of the importance to be taken in the face of this threat, and at this point, 'steel' is one of the most important structural elements we have."
STEEL IS THE ONLY VACCINE TO EARTHQUAKE
Stating that the way and with which technologies the buildings will be designed is specified by the Turkish Building Earthquake Regulation (TBDY), Sezer said, Turkey is a country located in the earthquake zone. Although the date is not known, it is certain that an earthquake will occur. That's why we need to build safe structures that waste no time and make our existing structures safe, but we don't use the most important power we have against earthquakes enough.
Steel systems, which are widely preferred in developed countries, are not used enough in Turkey. However, the vaccine for earthquakes is steel.
Steel structures are 50 percent lighter and 18 times more flexible than reinforced concrete structures. With this advantage, steel allows us to produce a safe building model." he said.
LONG LASTING, SAFE and ECONOMIC
Stating that steel structures come to the fore with the advantage of long life, Sezer said, "Steel structures mean a lower earthquake load transferred to the structure, less earthquake risk and a safer structure with their lighter and ductile structure. Provided that it is designed correctly, it is possible to strengthen, repair, renew and/or replace the structural elements, all of which are visible, without losing anything from their function and strength.
Steel structures are designed as a much lighter structure in parallel with the density and mechanical behavior of the material. When the project is looked at holistically and throughout the life of the building and all direct and indirect benefits and gains are considered, it is seen that steel structures provide serious economy to the owner of the building. said.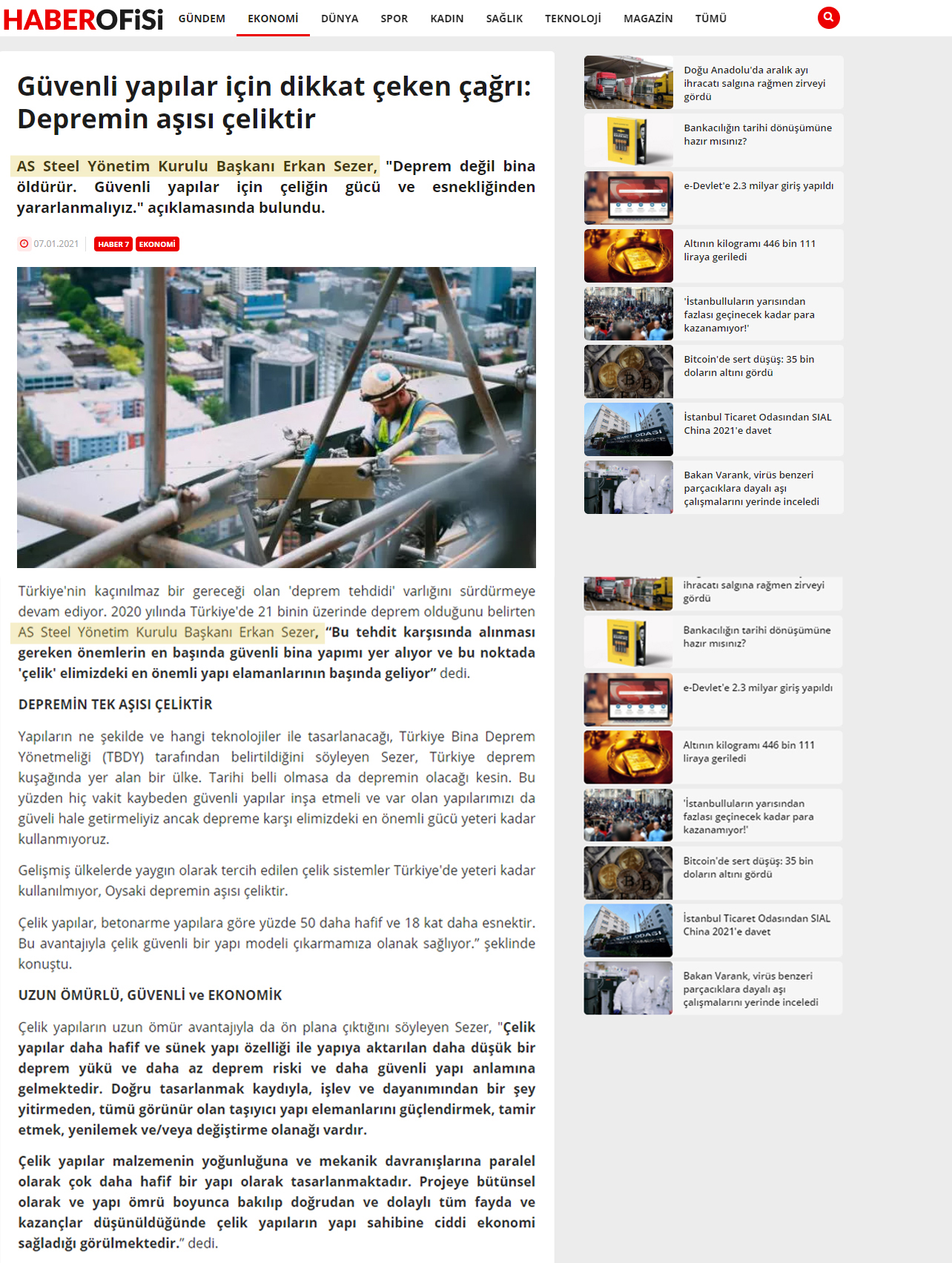 https://www.yenisafak.com/ekonomi/guvenli-yapilar-icin-celik-kullanimi-cagrisi-3593283